I was resting nicely on my security pillow…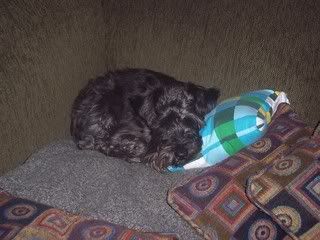 And them my mom person started messing with my stuff.

My leash & harness, my security pillow & some dog food packed up. (I was hoping that Chi-Chi's container had some real Mexican food, but no luck!)




Now here I am, without my pillow. I'm working very hard to look pitiful to let my people know that I wasn't really cool with what was going on.




We all got into the car, & I was whining. Then we turned onto my Monnie & Bucka's street. I know when I'm at their street so this is how I looked. (Monnie & Bucka are the names that my boy John gave to his my mom person's parents, & it just stuck.)




Here's a picture of Monnie & Bucka.




I don't have any pictures from the rest of the weekned, cause I was busy doing zoomies, going for walks, being spoiled & getting people food that I'm not supposed to have.