Hi everybody. I'm back. Again! I'm trying to keep my mom person healthy for a while so I can get caught up with all of my friends. We have both missed you and appreciate all of your well wishes.
A loooong time ago my best schnauzer friends JD & Max shipped off a package from their house in England to my house in America. The package was carried of the back of fishes (slow fishes) across that big pond-thingie to me. They sent the package to celebrate their 100th post and since I was the very first commenter on their blog.
Now the box took a long time to get here (stupid slow fishes), but this post has taken just as long because my mom person has been busy being sick instead of keeping up with my blogging.
Well let me tell you, when this package finally arrived it was spectauclar! I've never gotten such nice things for me & for my people!
When the package got here it looked like it had been thru a lot. I was very impressed because the white sticker says "Royal Mail". I'm glad places like England give us schnauzers the respect we deserve.
When we got the box open all sorts of wonderful things were just pouring out of the box!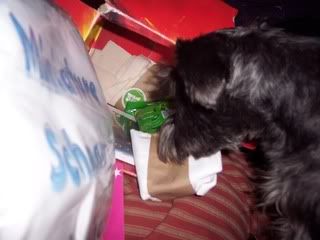 Now I've heard the stereotypical things about British food being no good so I was curious about these munchy bones.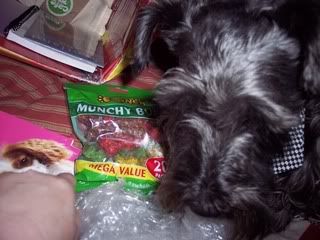 This is quite the thing for my mom person, she loves to write lists and this is a blank book just waiting to be filled with lists.
Those Brits are a classy bunch, very formal you know, so they set me up with my own ascot. Just when I thought I couldn't get any handsomer!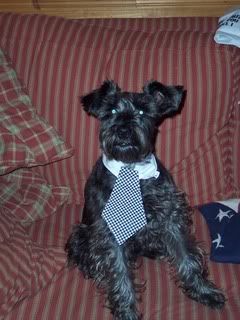 Now since JD & Max were young pups, I've been schooling them in the ways of nesting. They sent me this brilliant nesting pillow. I keep this one on the sunporch as the basis for my nest there, my other nest is in the living room. And the saying just speaks for itself, doesn't it? It's good to put it in writing so my cats understand, but the thing is I don't think they can read.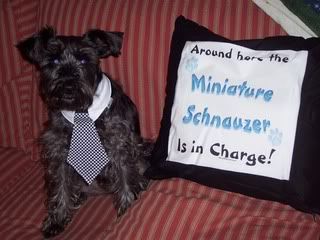 Hmm, here's a coaster listing the "Schnuauzer Property Laws". I really wish those cats could read.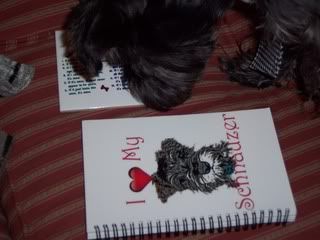 This is a lovely bag, what's it say?
"Schnauzer Mom", how perfect. My mom person took this to the hospital a couple of times and it made her happy to think about our good friends across the pond.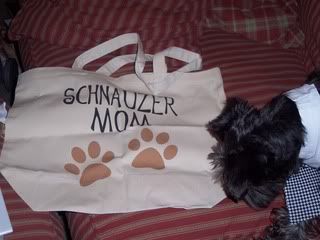 An apron that my dad person wears when he makes splattery human food. It says "If my schnauzer doesn't like you, neither will I". We are quite discerning about the company we keep.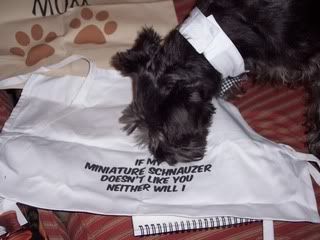 There's still more, can you believe it?! This has a lovely sentiment on it, but I don't know why my person keeps calling it a mouse pad. We've got no mice and it clearly doesn't smell like it's made of mice.
Here's a wee calender with the sites of Scotland. My mom person looks at it longingly.
I think we should probably get back to those treats.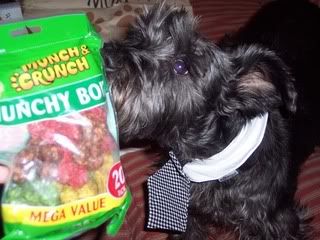 I think those rumor about British food are rubbish. Trust me that was one tasty bone!
I've just got to say to JD & Max & their mom person Clare, that we thank you from the bottom of our hearts for such wonderful gifts. Our world has become a much better place since we've known you. I know that the three of us would rule the world if we weren't seperated by that lousy pond!