Well the other day I started to post about my 2 presents that came in one day! It was so very exciting!
First off we opened this package from the beautiful Sally Ann my mom person told me after looking at the package.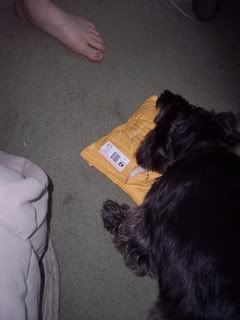 My oldest boy John helped me get it open.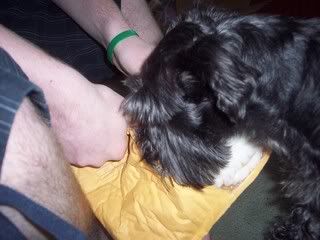 He got a tattoo while I was camping with my people. Mom says John thinks he is from the 70's!
The note is from Sally Ann (swoon).
I got this really cool non-stuffed stuffie!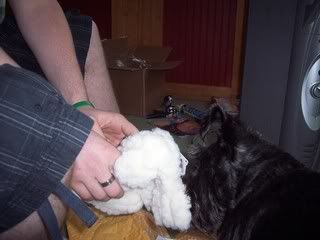 Ooh, I'm sure I can smell Sally Ann on it!
Then the second package was from JD & Max, all the way from England. It's across a bit pond you know!
First I saw newspapers.
I'm not really a big reader. JD & Max's mom person, Clare sent some newspapers cause my mom person got something from the UK that was wrapped in paper that had naked ladies! My teenage boys thought this was a brilliant way to get teens to read the paper, but my mom person disagreed. JD & Max sensored the "naughty bits" on this paper, but you can see why it was a little startling.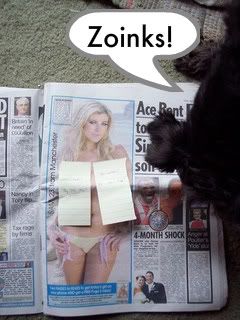 Then I discovered Mr. Rattlesnake!
Mr. Rattlesnake has already been taken away from me since I decided to do surgery on him & got out some of his stuffins!
Ooh, look at these little flags! They turned out to be very tasty little treats.
I immediately grabbed one to take outside. I do enjoy a good picnic.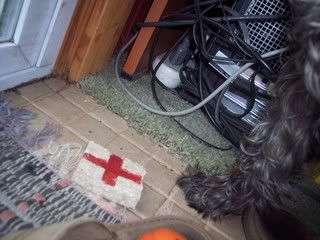 They also sent this really cool personal fan. When you turn it on the words "Hello Oskar" shows up in the blades somehow. We couldn't get a picture of that, so you'll have to take my word for it!
Oh my mom person wanted me to mention that Clare also sent a newspaper without naked women, so that we could see the different types of newspapers they had in England. My boys were not interested in reading that one!
So thank you so much Sally Ann, JD, Max & Clare. Getting pressies is the best surprise ever!