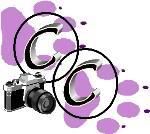 My mom person is back from the hospital, again! She thanks you for all of your prayers and well wishes.
As I mentioned we went camping a few weeks ago, so here's some of my fine photojournalism from that trip.
I checked out the navigation seat to make sure we were ready to go.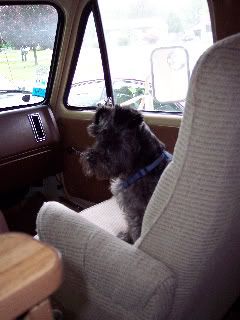 I checked to make sure our motor home monster, Ned was ready to go. Every motor home has a monster doesn't it?
First of all my mom person & I have to sit in our chair & survey things. We spent some time pondering whether this thing on the ground was a scuzzy grape, or just a rock.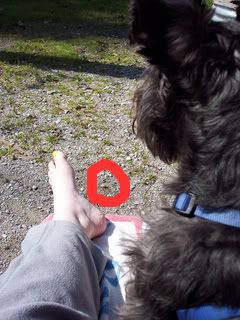 We pondered for a couple of hours before we decided to move and check it out. Hmm, just a rock. Good thing I didn't eat it. (Hear that Dexter, no rock eating!)
Then we saw what we thought was Brutus' Big Earl pull up!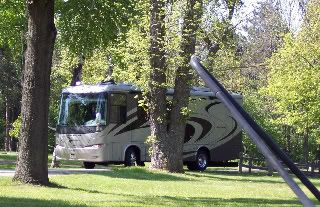 I suited up to go explore it by putting on my exploring scarf from JD & Max.
Really dapper aren't I?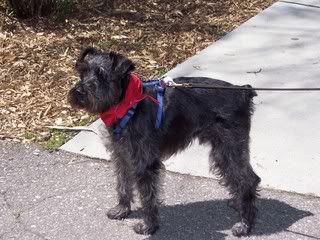 It even has my name in heiroglyphics, in case there are any heiroglyphic reading people here!
Well we didn't find Brutus or his people, so I guess it wasn't Big Earl. Next I settled in with my dad person for a rest after our hike.
Look what I spotted…a rare sighting of the wild Kong. My animal instincts took over and this wild Kong didn't stand a chance!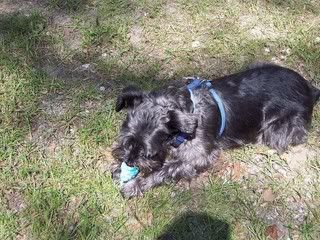 Just as I laid down for another rest you really won't believe what I saw.
A wild forest cat!
I camoflauged myself and set off to keep this wild hunter off of my lot.
One bark from me & he ran for the hills!
Evening was upon us, and it was time for my rest. I thought I'd better sit with my mom person so she could protect me I could protect her from any other wild varmints.
Even though we made a campfire it got cold. You can see my woozley little head at the end of my mom persons blanket.
When the night was done & I had sniffed my final Pee-mail it was time to crash. I didn't know where my people planned on sleeping, but I for one was set!
Go see what all the other Camera Critters are up to!