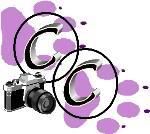 Hmm, wonder what's in that bucket?
OMD! Hippities!! 2 hippities!!
Hmm, I wonder if the Hippities can come out of the bottom of the bucket?
I guess not. Here's a video. (My mom person says watch my nubbin' tale in this video)
All I want is to play with the hippities! I'm not allowed to cause after I put them in my mouth I froth & throw up. They say it like that's a bad thing!
Check out what all the Camera Critters are doing.