I've got so much news to share with you all! While our computer was sick, we got to go on a camping trip. But before we left to go camping I got 2 presents in the mail on one day!! Two!
I am a lucky dog with the best doggie friends (and maybe girlfriend) in the world.
The beautifully stunning Sally Ann of Big Bubba Blogger and Bothersome Baby Blogger sent me a package. However, just now when I went to the blog she shares with her older brother Mack I learned some very sad news. Her big brother Mack had to cross the rainbow bridge. My heart is broken for my best girl. Please stop by and give them some love by clicking on the link above. Mack was a wonderful doggie and I know their family hated to have to make this decision.
With a sad heart I'm going to finish my post now. I'll post the pictures of my presents and camping trip another day.
Here are some photo's of Mack, the white American eskimo with his baby sister Sally Ann.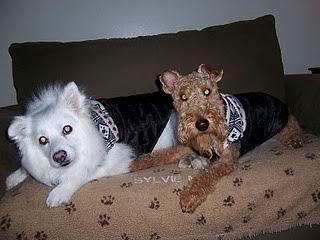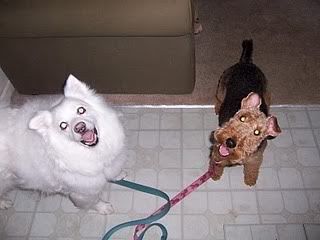 Mack, we will miss you my friend.