My pawsome friend Joy, from
Joy To The Blog
gave me an awesome blog award. This is the same Joy who sent me
my fancy new pillow
& a hoove thing that freaked my mom person out!
I'm really happy that Joy likes me & my blog. She's awesome & my mom person even met her in real life! My mom person is the one in the glasses. Joy has been an awesome friend to both of us.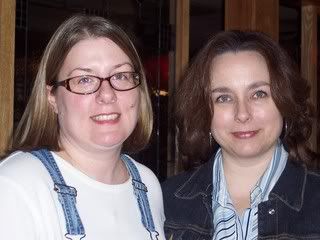 Now I'm supposed to pass this award on to other people. I'm gonna pick some of my newest friends.
Nellie & little Calvert great schnauzer doggies
Mack & Sally Ann a Welsh terrier & an American eskimo
Mango the apricot brindle mastiff
Sasha the sassy lovable shih tzu, who lives in my town
Tutti, Jack, Fred & Frodo, and my wonderful friend Kenia Cris
Santa, Beckham & Minnie from Kuala Lumpur, Malaysia
Vodka another minature schnauzer from Singapore, I think
Scout & Freyja who are here in Michigan too
Sally & Paddy from London
Again, thanks to Joy, I'm off to nap on my cool pillow.