Well today was the dreaded grooming day. I can't say that I cared for it, but since it's been so hot here & since my handsomeness was being slightly compromised I consented & look at me now!
I am fully re-schnauzed as my mom person says. Here's a full body shot. Notice the very large stick I am protecting my mom person from.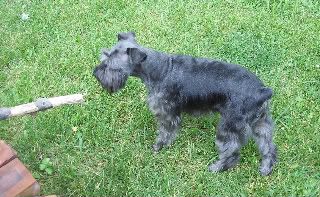 Also here's a shot of me supervising my mom person mailing out my GABE prizes to Bella. What's that I hear you saying? Oh yes, you're right GABE ended ages ago! My mom person has tried unsuccessfully to mail this out twice to Australia & gotten it wrong both times! This time I am supervising to make sure she does it right.
I'm so very sorry, Bella for the seeming incompetence of my help. Sometimes it's hard always trying to supervise people.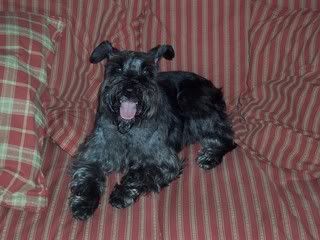 I've had a great response to my All About Your People Day & I really appreciate it.
I've had a couple of questions about what we should blog about. I would suggest as much as your people are comfortable sharing. Here are some examples:
What do your people do for work?
Where do you live?
What do your people like to do when not hanging out with you?
Do they have a history with your breed or type of animal?
Do you live with other fur-kids that don't usually get mentioned on your blog?
Do you have human pups at your house?
Really anything. The more you share the more we'll know about the people who are lucky enough to have you for an owner! (My mom person says technically she owns me, silly human.)
If you have any more questions please let me know. I'm planning on putting up a Mr. Linky on Friday, July 16th & leaving it open for people to all their links all weekend. I hope it will be a great way to get to know more about each other!