Ahh, lovely fall sunshine.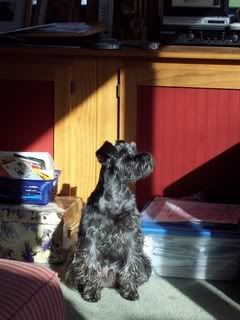 A perfect place for a nap.
Uh-oh…
Feline intruder!
Fail!
She's sleeping, here's my chance to get back in without getting swapped in the nose.
Creeping back into the sunshine.
Ahh, back to my nap with no punch in the nose. Success!!
Hello friends, I have missed you all since my mom person has been sick. We are going to make the rounds and visit you all tonight and I can't wait to see what you have all been up to.
My mom person wanted to thank you all for all of the get well love you sent her way. She is feeling much better and does not plan to return to the hospital any time soon.