All I can do is raise my paws to the sky & proclaim the evilness of this Scarlet Puppynickel. If you do not know he is a globetrotting trouble-dog who will come into your home, do dastardly deeds and escape leaving the innocent pup of the house to face the consequences.

So far he seems to have struck mainly miniature schnauzers. My good friends JD & Max from the U.K. were to first to report on his destructive ways. Then, proving he is no gentleman Puppynickel traveled to Australia to torment the beautiful Sasha!

Now I'm sorry to report, that I, too, have been a victim of the Scarlet Puppynickel.

I was minding my own business yesterday, thinking of nothing like going out and getting myself filthy by digging in the mud…




When the first signs started to appear. Mud tracked into the house!




And onto the white bathroom rug!




But the blasted Puppynickel didn't stop there. Before he made his escape, he must have wiped mud onto my paws as I was sleeping!!

The next thing I knew disaster struck.




A truly innocent dog, I was being punished for Puppynickel's deeds…with a bath!!!




This devil dog is a genius. Look at how much mud he managed to rub on my paws without me even knowing it!




At the end of my ordeal this is what's left of me. A wet, shell of a dog, who has been bathed for a crime he didn't commit.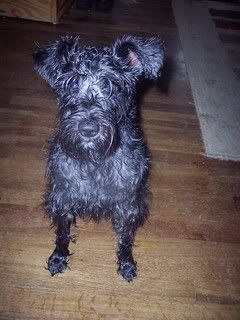 *Shaking paw in the air* I'll get you for this Puppynickel, if it's the last thing I do!
*I've just learned that poor Nellie and little Calvert, two more innocent schnauzers, have had their homes attacked by the Scarlet Puppynickel!